Live demonstration of ACCS at the 2023 JAPCC Conference
Live demonstration of ACCS at the JAPCC Conference
From 10 to 12 Oct 2023, ThalesRaytheonSystems presented ACCS at the Joint Air Power Competency Center (JAPCC).
JAPCC is NATO's unique Centre of Excellence on Air and Space Power matters.
The conference attracts every year an audience from the full range of political, military and industrial leadership. Consisting of over 50 Flag Officers and 250 senior Joint Air and Space Power experts coming from all NATO countries and some partner nations as well, including four-star leadership. The Chairman of the Military Committee (highest military body in NATO), the AIRCOM Commander, and the US Space Command commander attended the conference.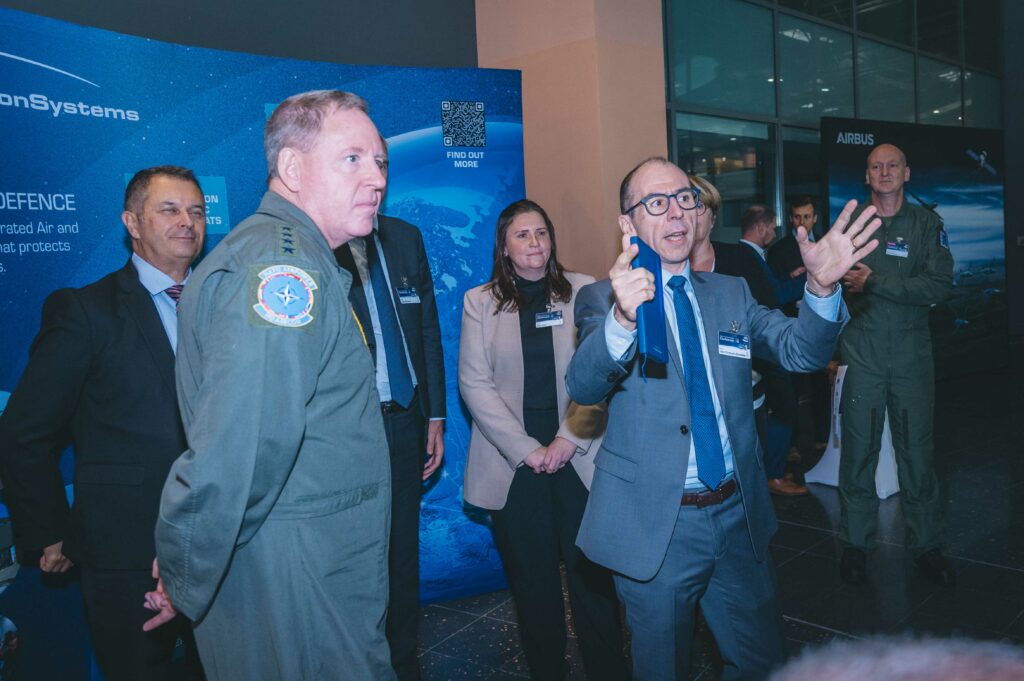 Jean-Christophe Bouteiller, ThalesRaytheonSystems CEO, demonstrating to General Hecker, Allied Air Commander
ThalesRaytheonSystems' presented the Addendum 3 software baseline live, through two servers, emulating a Joint Force Air Component center (JFAC) and a Control and Reporting center (CRC ARS) working in a collaborative way. The demonstration was simulating a high intensity NATO Crisis Response scenario, with real data recorded from the actual aerial activity.
The ACCS new baseline is the first and only Integrated Air and Missile Defence Air C2 System in Europe, from top-level mission planning and resource management, to Tactical Air and Ballistic Missile Defence mission execution.
ThalesRaytheonSystems' experts demonstrated the core JFAC operational capabilities:
Airspace Management,
Force Management,
Surface to Air and Missile Defense (Air Breathing Threat and Missile Defence) Planning,
Current Operations
Battle Management
It also demonstrated the core ARS operational capabilities:
 Surveillance,
Air Mission Control and Weapons Control in a multi-domain environment, for navy multi-mission and air defense frigates, and land based Patriots and SAMP/T.
Having the real software in front of the audience allowed to demonstrate the new ACCS software look and feel, and the openness and modularity of the system.
ThalesRaytheonSystems participation at the JAPCC conference was an important opportunity to meet the top military leadership of NATO, and to demonstrate the new ACCS software baseline with the actual validated software. Therefore, demonstrating that ACCS is available and ready to be deployed in the NATO Command Structure, and in NATO Nations ready to adopt this solution.