Demonstrating the full capability of ACCS at the 2023 Paris Air Show
Demonstrating the full capability of ACCS at the 2023 Paris Air Show
It's a wrap!
Thank you for coming to our demonstration at the Paris Air Show. It was a great opportunity to demonstrate the capabilities of the ACCS, and to speak with distinguished guests.
With a live demonstration representing two deployments, one simulating the Joint Force Air Component Command (JFACC) in Ramstein and the other a Deployable ACCS Tactical Control unit (DARS), our experts demonstrated the management of a crisis scenario and the defense of a territory against massive and simultaneous air threats such as fighters, cruise missiles and ballistic missiles.
Using ACCS, the JFAC Forces can plan, task and execute a fully integrated air and missile defense design as well as offensive counter air missions to prepare for actual attacks launched by an adversary.
ACCS is designed as an integrated system, and everything planned in the JFAC is automatically shared with the tactical sites and units.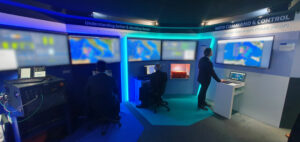 ThalesRaytheonSystem ACCS demonstration
JFAC combat operators have the task to monitor the real-time execution activity (Current Ops), and provide command directives, guidance and tactical orders such as engagement authority, as well as update the rules of engagement from peacetime to crisis, including up to Article 5.
Using sensors, communications, and data links, the DARS creates a joint environment picture, and the live picture is shared on the NATO network, including to the JFAC.
Using the air situation picture, weapons controllers use data links with ACCS for fighters in combat air patrol areas and surface-based air defense weapons to respond to enemy attacks such as hostile air superiority fighters and cruise missiles or ballistic missiles. This includes any platform included in the vignette, such as AWACS or Aegis Cruisers.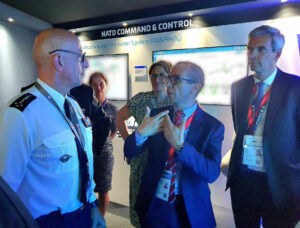 Supreme Allied Commander Transformation (SACT) General Lavigne
The new ACCS software baseline, using X86 windows-based technology,  also demonstrates the new open architecture, able to connect all other command and control systems, services and software such as the air to air refueling planning tool JIGSAW, the command and control decision aid called ANTICIPE and the situation awareness distribution tool NCOP (NATO Common Operational Picture). This was fully demonstrated, live, at the Paris Air Show, with ACCS sharing the Current Ops picture in real time not only with the Web Portal (for HQ, Airbases, Squadrons, etc.) but also NCOP (another major NATO joint Program) running on a DCIS Firefly Nexium Box (a third major NATO program), all fully federated.
The openness of the system is further demonstrated by the inclusion of 3rd party applications such as ANTICIPE (AI-Based Sense Making and Decision Support for Commanders from ACT) and recently developed link for future integration of JIGSAW (Air-to-Air Refueling from Kessel Run). ANTICIPE showcases the additional capabilities that can enhance the system whereas JIGSAW demonstrates the ability to replace complete capabilities of the ACCS by future ones, even those developed by nations or their national champions.